I generally live by this rule...but today, I bent it just
a little
. See, I love this sweater so very much, but since it's high-lo (higher hemline in the front, lower hemline in the back), pairing things with it is
super
frustrating for me! Add to that the fact that I love these wacky leggings from Forever 21, and well, I'll let you check it out for yourselves.
A feeding frenzy for Cheerios.
He came
thisclose
to falling in.
Notice that the bum is completely covered.
I adore my MAC Ruby Woo lipstick. (They'll probably discontinue it now that I've said that.)
This pose lasted all of two seconds.
The only thing missing is our oldest kiddo, who was in school when we snapped this. :/
Sweater: Victoria's Secret,
Leggings: Forever 21,
Boots: Shoemint,
Bag:
Lipstick:
Special recognition must be given to the glorious
, where all these photos were taken.
_________________________________________________________________________________
I decided to submit this post for the "Mama Style" link-up. It's one of the few style posts I've got, but my goal is to do more. :) Anyway, as part of the fun, I'm supposed to share how my style has changed since becoming a mother.
This is a funny question because, for me, my style sorta went downhill after becoming a mom...which is why I had to make the
decision
not to lose myself. I found myself wearing the same t-shirt-and-jeans combo day in and day out, and I didn't like it. I'm not saying I wanted to be J-Lo or Beyonce' (okay,
!), but I did want to look put-together and, perhaps, every once in awhile, downright glamorous! So,
toward simply taking more time for myself. I watched YouTube for makeup tutorials and scanned Pinterest for clothing inspiration. It hasn't been super easy, but I'm much more satisfied and I'm having tons of fun!
My biggest beauty accomplishment has got to be mastering the application of false eyelashes. They're a
big pain in the butt
at first, but once you get the hang of it (tip: wait a full minute before applying--the glue should be sticky/tacky!), they will elevate your entire makeup look. If you're nervous about it, dip a toe in with some
s. They're easier to apply than a full strip, but still add a subtle punch. :)
As for clothing, age and motherhood have made me less obsessed with Do's and Don't's. As you may have noticed, my thighs are not particularly skinny, and for that reason, "they" say I'm not supposed to wear leggings or skinny jeans or whatever, but ya know what? I really liked these leggings, so I bought 'em and found a way to make them suit
my
body. Life's too short for "rules", ya know? I'm comfortable with who I am, and that includes the body I'm blessed to call my temporary home.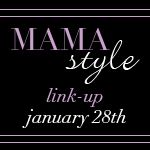 Have a blessed weekend, everyone!!